Eduard Anikonov
The Biography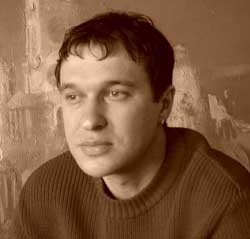 Eduard Anikonov was born in a Russian steel-making town of Magnitogorsk in 1966. He began learning painting at an early age when his parents took him to a local Art School for children. From 1983 to 1987 he studied fine arts at the College of Arts in Sverdlovsk (Ekatherinburg). In 1991 Anikonov entered the faculty of graphics of one of the most prominent art schools of Russia - St. Petersburg Repin Academy of Arts after achieving the highest score at his entrance exam. Eduard Anikonov`s work lies in the realm of contemporary topics. The essential life in the Ural industrial belt shows itself well in Anikonov`s industrial series. The laconic language used by the artist matches the way an ordinary Soviet person used to take life. Though labor always took the main place in human life in Russia, Anikonov managed to show a whole unknown layer in the seemingly familiar life. Here belong the grim workshops and roaring rolling mills, the gloomy iron ore mines and dark quarries that are far from being festive or picturesque. Depicting steelworker`s labor is totally bereft of heroic or romantic halo that is why it is taken by the spectators as part of their everyday life. Things that look like great deeds to a layman were routine things for factory workers. The goal of reflecting prosaic life in a new way in art is rather difficult to reach. There is not a trace of officially accepted "labor victories" or "red letter day`s reports" on Anikonov`s canvasses. The color palette of his paintings is fairly modest: it is a strong masculine world whose heroes are men of deed and the technological schedule who are basically taken as "pillars of the nation". Eduard Anikonov took part in exhibitions in art galleries of Moscow, St.Petersburg, Samara, Yekaterinburg, London, Vienna, San Diego, Los Angeles, New York, Philadelphia, New Jersey and his hometown - Magnitogorsk.
back to main page | back to events | contact us | FAQ
Copyright ?2007 Arcana Gallery.