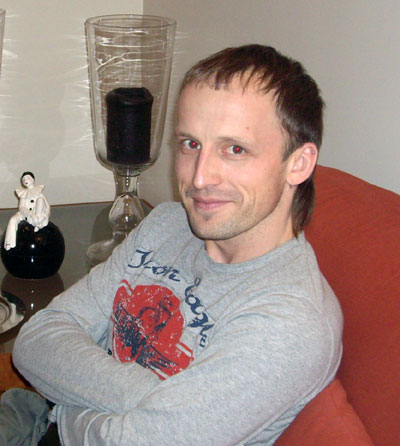 Dmitry Vidov was born in June, 1968 in the city of Almetyevsk. A propensity for drawing was shown in his early years and at the age of ten, his parents enrolled him in the children`s art school. Dmitry`s first works as a student displayed his talent for detailed elaboration and the carefulness of planned execution.
In 1983, he completed art school with distinction and began his studies at the School of Arts in the city of Naberezhnye Chelny. Under the direction of talented instructors, Dmitry continued training in figurative painting and refining his skills as an artist.
Dmitry ended his studies at the School of Arts in 1987, when he was called into duty by the armed forces. During that time he was based in one of mountainous areas of the country and for the first time, he saw mountains. He was taken by their beauty and greatness, which has played a significant role in the definition of his creative destiny.
Once service life ended in the army, Dmitry moved back home to his small provincial town where he was still connected with his early ideas of art. He eventually moved to Moscow and was accepted into the Srtoganov Industrial Art University. Dmitry spent six years training, visiting museums to study the heritage of great masters, and persistently studying nature and being engaged with painting in the open-air. After several exhibitions, he tirelessly continued to perfect the skill, aspiring to perfection. By this time, he preferred the genre of mountain landscapes, executed in a hyper-realistic manner.
Also an avid outdoorsman and excellent snowborder, Dmitry regularly travels to the heart the Alps where he gets new impressions and inspiration. In 2000, he traveled across Italy. Upon his arrival into Venice, he was amazed with the variety of imagery, which influenced new themes in Dmitry's creativity. Now, continuing an active creative search, Dmitry tries himself in a portrait genre, using means of traditional realistic painting.
Dmitry works fruitfully and actively taking part in various exhibitions. He constantly exhibits his works at the annual Moscow "Art-arena". In 2001, he was shown in gallery "Medici House" in Zurich. In 2002, he was part of an exhibition at gallery "Babylon" in Samara, and also in many other galleries in Russia and abroad.
In 2004 he became a member of the Creative Union of Artists of Russia and the International Federation of Artists.
Works of Dmitry can be found in galleries and private collections of Russia, the USA, France, Italy, Switzerland, Austria, Germany, and Japan.