Oleg Kalaytanov
The Biography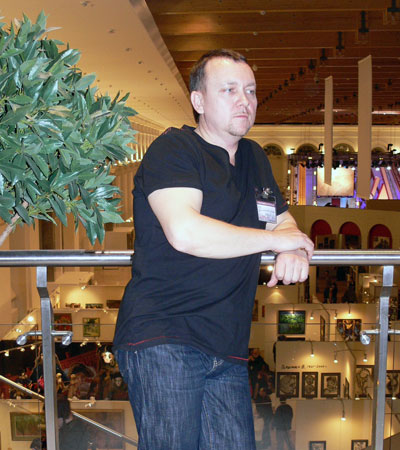 Oleg Kalaytanov was born in Stavropol; Russia in 1969.His father was a doctor who was moved by the State to Neftekumsk to provide health care in the region. Neftekumsk was a cold and uninspired city where Joseph Stalin had placed many political prisoners. Oleg's father had long held an affinity for the arts and exposed his son to the circle of writers, painters and musicians that he held strong friendships with. This constant exposure to an ongoing dialogue with the arts would influence his early proclivity towards drawing. In the former Soviet Union children who displayed talent towards a particular field or art were placed in learning institutions that would develop the child's skill. From 1977-1986 Oleg was placed into an art school for children and young adults. In 1986 Oleg moved back to Stavropol and continued honing his art skills at the Stavropol Art Academy from 1986-1993. During this time his teacher, who was a good friend of the famous Russian artist Saryan, worked with Oleg on technique and compositional themes. Other artists that Oleg Kalaytanov credits with influencing or inspiring his work are Monet and the Russian artists Korovin, Levetan and Serov.
Kalaytanov's artwork possesses bold brush work and powerful colors. He explains, "I want my work to reflect constant movement; the movement of birds in flight, the movement of dancers dancing. I want to paint the essence of my subject but I don't want it to be definitely finished. I always leave room for the viewer looking at the canvas to finish it in their own minds. It is this cooperation between painter and viewer that creates a beautiful chemistry in my work."
Recent Oleg Kalaytanov Exhibitions have been held in Moscow, Krasnodar and Stavropol. An exhibition is planned in the United States in the 2008.
Replica Watches
Replica Rolex
Replica Watches UK
Cheap Oakley Sunglasses
Replica Oakley Sunglasses
Replica Watches
Rolex Replica Watches
back to main page | back to events | contact us | FAQ
Copyright ?2007 Arcana Gallery.