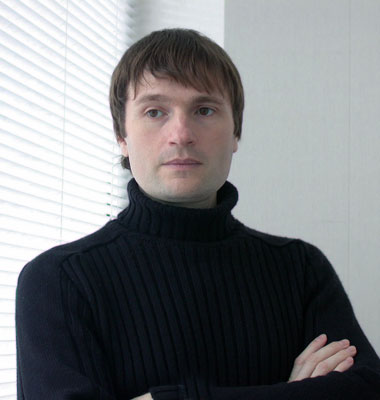 Vadim Hlopetsky was born in April, 1968 in the city Rubtsovsk. In 1974 his father, an engineer-designer, was invited to work at the newly constructed automobile factory "ÊàmÀZ", and in 1975 the entire family moved to the city Naberezhnye Chelny. This is where Hlopetsky began his training in the children`s art school. He would regularly visit the house-museum of the well-known Russian artist of the 19th century, Ivan Shishkin. It was at this point he opened himself up to the world of realistic painting. In the school of arts he studied painting and the figurative work of skilled masters.
"Trying the forces in different directions of the fine arts takes a great interest in graphics and design". In 1987 he graduated from art school and started his work in the design-center at the car factory "ÊàmÀZ ". Soon the political situation in the country sharply changed, the USSR split up and "ÊàmÀZ" stopped operations. Aspiring to further his professional growth, Vadim departed for Moscow and joined the Stroganov Industrial Art University. There he continued to engage in automobile design. "Living in the capital allows opportunity to study masterpieces from the world of art, visiting exhibitions, museums, and concerts".
In the summer of 1991, within the limits of the Moscow film festival, Vadim was introduced to a retrospective show of films, acquainting himself with masterpieces from the world cinema. Cinema had a great impact on Vadim, which lead him to discontinue his training at Stroganov University. He then started his studies in the areas of direction, cinema and television in the Moscow Institute of Culture where he finished with distinction in 1997.
Later that year, he furthered his studies with the camera faculty at the State Institute of Cinematography. In 1999 Vadim began working with the film studio "Mosfilm". The noisy and fussy life of cinema became contradictive to Vadim`s incline for lonely contemplation. He most often prefers the life of an independent artist with quiet work in his own workshop. At last, Vadim finally made a choice in favor of painting, coming back to own sources. He prefers most to capture the carefully constructed genre of still-life. In a short time he has furthered the techniques of hyperrealism, learning from the classical traditions of Dutch Masters and Russian paintings from the 18th and 19th centuries.
He seldom participates in exhibitions, however many of his works are in private collections of Russia and abroad. Vadim continues his quest of a creative solitude, living and working situated near Moscow village.